It's simple….together, we choose retailers that our company will call on for you!  These retailers can be a combination of ones you wish to sell your products to and ones we feel are a great fit for your product. We have strong retail buyer connections at a majority of the top 100 retailers and dot coms!
How the program works:
Step 1
You provide us with a one page sell sheet of your product that we can email to buyers. This sheet should contain at least one quality photo of your product, a list of benefits and features of the product, and a website link or social media link where a retail buyer can see more information about your product. It's also advisable to provide us with a short presentation deck (typically about 6-8 pages) that we can email to buyers that further describes your product and your company. If you do not have a sell sheet and/or presentation deck and do not have the ability to create them, our team can do them for a very reasonable cost!
Step 2
We email and call the agreed upon retail buyers for a period of 60 days. We seek an answer of no, maybe, or yes from the buyer. We use 60 days as a barometer because it typically takes a number of weeks for retail buyers to respond as they are very busy and inundated with product reviews. However, we "jump the line" to a great degree due to our long standing relationships with most major retail buying teams. If we get a yes, we stay involved in the process by arranging for you to send samples to the buyer, negotiating a potential deal, and corresponding with the buyer through the process of new vendor setup and receipt of purchase orders. If we get a no, well, then, our job is done for that retailer. If we get a maybe, we stay in touch until the end of the 60 day period and then you take it from there or we can continue to work on that particular account if you like.
Step 3
Cost for the program – only $250.00 per retailer we call on! People have asked us "how can you make money by only charging $250.00 per retailer?" and the answer is, we also will earn a 5% commission on all sales we make. So, if we do a deal with a major retailer and they issue a purchase order for $20,000.00, we would earn $1000.00 (in addition to the $250.00 for calling on this retailer) for securing that order. If the retailer places additional orders within 9 months of the date we originally contacted them, we would earn any commissions on any orders placed.
What we need from you to get started:
We have a minimum of 3 retailers that we will call on. So, the minimum cost to participate in this program is $750.00 plus the commissions we earn. However, there is no limit on the amount we can call on.
WE DO NOT GUARANTEE THAT YOUR PRODUCT WILL GET PLACED WITH ANY RETAILER AS MANY FACTORS GO INTO A RETAILER ACCEPTING YOUR PRODUCT SUCH AS COST, RETAIL PRICE, INTEREST LEVEL OF THE PRODUCT, PACKAGE DESIGN, SPACE AVAILABILITY, AND OTHER FACTORS. 
You are paying for our connections, experience, and effort to make the sale!
As part of this program, we do NOT offer consultative services such as advice on product development, marketing and sales strategies, or other business related advice. This is strictly a "pay for sales effort" program. We do offer such consultative services so please inquire for more information if interested.
We have relationships and do business with many major retailers.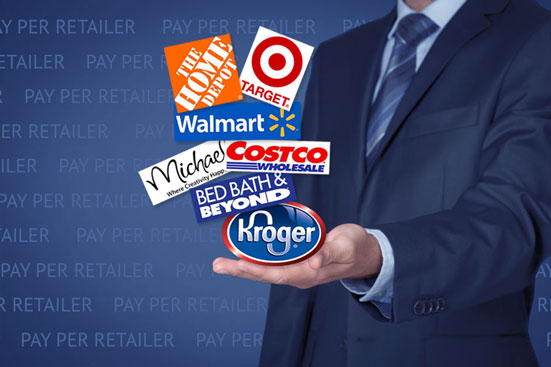 Pay Per Retailer
Per retailer, with a minimum of 3 retailers.